Summary
May has come and gone, and I feel like I blinked and missed it. Training and adapting to my new job has kept me very busy, and by the time this has posted, I'll return from New York after attending BEA.
I've also returned to the gym after a year hiatus. I LOVE it. I have missed my work outs, and I hope to see some results soon.
Mother's Day was wonderful this year. Long story short, I sent my mother flowers from Abe Lincoln when the card rearranged my quote on her card when I sent off the order.
There isn't too much to tell, I can't believe that I felt so busy yet have so little to say! Oh, I did fall down into the creek when I was watching it overflow.
I do have a lovely picture to show off, since the weather is crazy, with rain and thunderstorms and daily terror from tornadoes: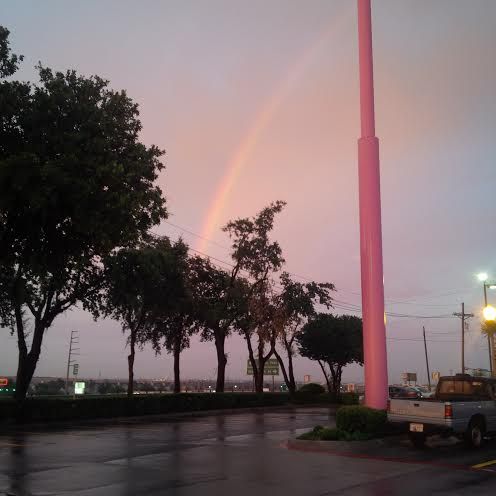 Reading
I read 6 books this month which brings my total to 28 for 2014:
Dare Me by Megan Abbott
The Dreamer by Pam Munoz Ryan
Shadows on the Moon by Zoe Marriott
Steelheart by Brandon Sanderson
The Westing Game by Ellen Raskin
Snow in Summer by Jane Yolen
I DNF 1 books in May:
Chasing Shadows by Swati Avasthi
Average rating for May: 3.2
Average rating for 2014: 3.5
Favorite Book in May: Shadows on the Moon Zoe Marriott
Pages Read in May: 2,012
Pages read in 2014: 9914
Television and Movies
Theatre Releases: 1
Rentals: 0
Rewatched: 1
Started: 2
Breaking Bad
Redubbed Sailor Moon (Hulu)
Bought: 1
Most Extreme Elimination Challenge Season 1